Brent DawePhD Student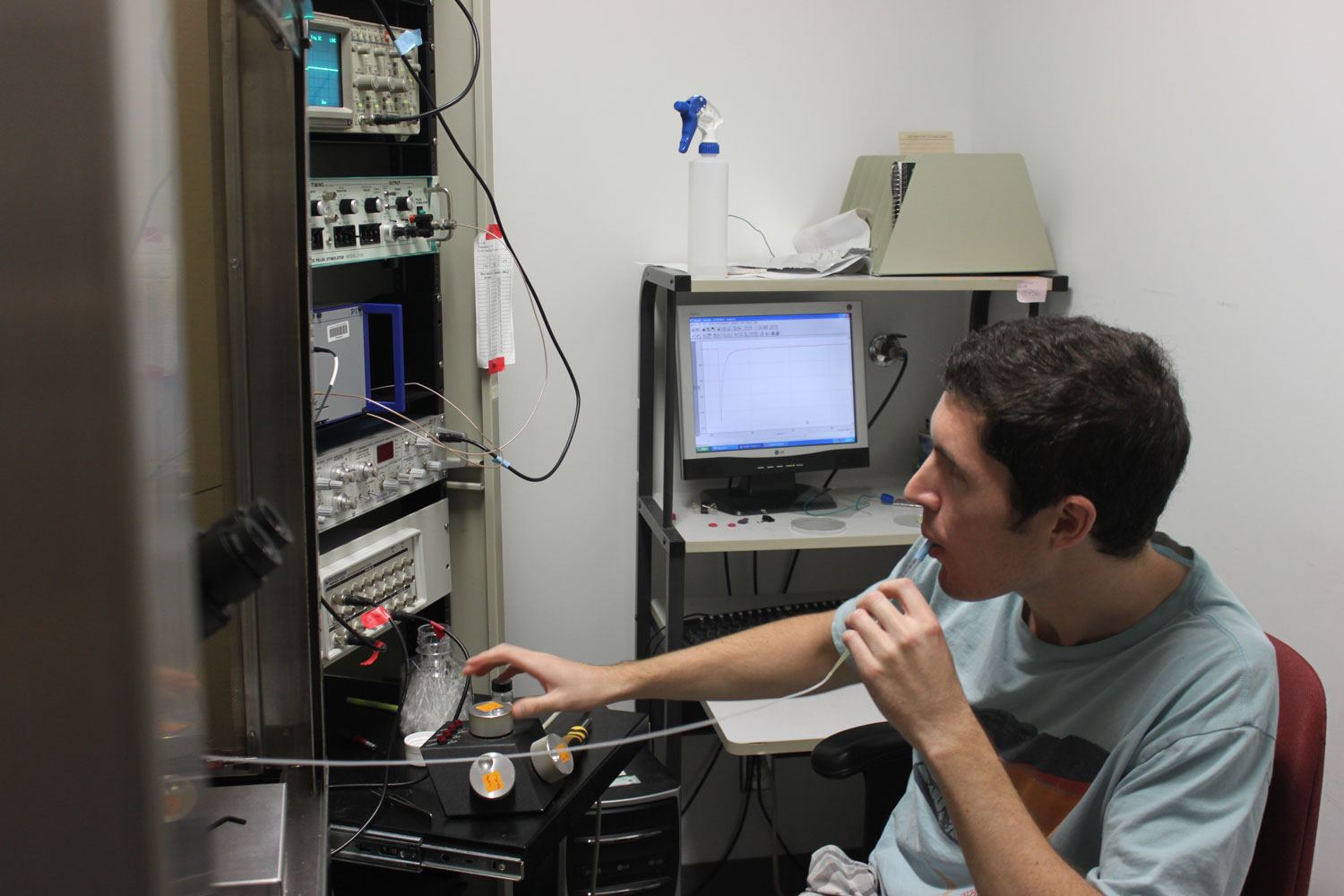 Brent obtained his BSc degree at the University of Ontario: Institute of Technology (UOIT), where he completed an Honours thesis project studying invertebrate ion channels under Dr. Sean Forrester. Since joining the Bowie lab in 2010, Brent has studied the molecular mechanisms of ionotropic glutamate receptor (iGluR) activation and desensitization, with particular emphasis on the behaviour of single channels. Utilizing electrophysiological recordings of recombinant iGluRs, in conjunction with structural analyses provided by collaborators, he is currently seeking to identify how various aspects of receptor structure regulate functional properties.
Awards and Scholarships:
| | |
| --- | --- |
| 2013 | NSERC Postgraduate Scholarship (CGS-D) ($105,000, 3 years) |
| 2012 | J.P. Collip Fellowship, Faculty of Medicine ($10,000, 1 year) |
| 2011 | NSERC Postgraduate Scholarship (PGS-M) ($17,500, 1 year) |
| 2010 | Integrated Program in Neuroscience Recruitment Award ($10,000) |
| 2010 | Provost's Graduate Fellowship ($2,000) |
| 2010 | UOIT Faculty of Science Medal (highest cumulative GPA of faculty at graduation) |
Publications
Paolo Schiavini, G. Brent Dawe, Derek Bowie, Nicolas Moitessier (2015) Discovery of novel small-molecule antagonists for GluK2. Bioorg. Med. Chem. Lett.
Dawe, G.B., Aurousseau, M.R., Daniels, B.A., Bowie D. (2015). Retour aux sources: defining the structural basis of glutamate receptor activation. J Physiol, 593(1): 97-110.
Dawe, G.B.*, Musgaard, M.*, Andrews, E.D., Daniels, B.A., Aurousseau, M.R., Biggin, P.C., Bowie D. (2013). Defining the structural relationship between kainate-receptor deactivation and desensitization. Nat Struct Mol Biol, 20(9): 1054-61.
Beech, R.N., Callanan, M.K., Rao, V.T., Dawe, G.B., Forrester, S.G. (2013). Characterization of cys-loop receptor genes involved in inhibitory amine neurotransmission in parasitic and free living nematodes. Parasitol Int, 62(6): 599-605.