Dr. Patricia Brown
Post-Doctoral Fellow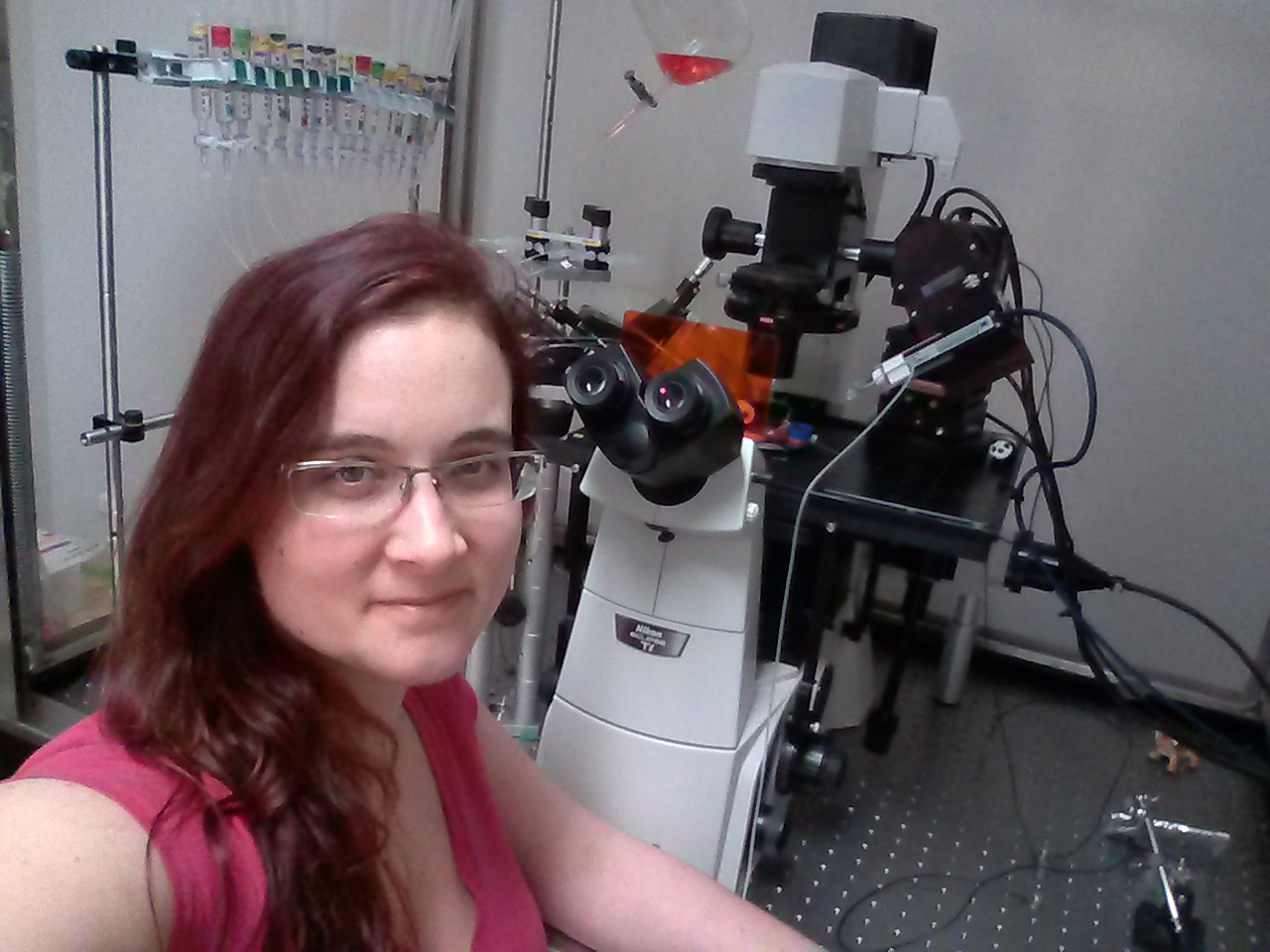 Patricia Brown is originally from Montreal, where she obtained her Bachelor of Science degree in Biology (Honours) from McGill University in 2008. During her final year, she carried out an Honours project in the Bowie lab. With the valuable experience she gained during this time, she decided to stay on as a graduate student in the Integrated Program in Neuroscience. Patricia's current interests include ion channel gating, neurotransmission and development of the central nervous system.
Scholarships and Awards
August 2015

Best "Data-Blitz" Presentation Award, iGluR Retreat, Albany NY (50$)

June 2015

Best Poster Prize, Canadian Biophysics Meeting, Waterloo (100$)

August 2014

Returning Student Award (IPN), McGill University (10000$)

September 2013

Senior IPN Poster Prize, Pharmacology Research Day (250$)

June 2012

McGill MedStar Award (500$)

Lachance-Touchette P*, Brown P*, Meloche C, Kinirons P, Lapointe L, Lacasse H, Lortie A, Carmant L, Bedford F, Bowie D, Cossette P. (2011) Eur J Neurosci.;34(2):237-249.

April 2011

FRSQ Doctoral Training Award (20000$ per annum, 3 years)

March 2011

Transfer Award, Integrated Program in Neurosciences (IPN), McGill University (5000$)

February 2011

Graduate Research Enhancement and Travel (GREAT) Award, IPN, McGill University (500$)

April 2009

FRSQ Master's Training Award (15000$ per annum, 2 years)

February 2009

First Prize for Best Project Proposal Poster at the 9th Annual McGill Biomedical Graduate Conference
Publications
7. Brown PM, Aurousseau MR, Musgaard M, Biggin PC, Bowie D. 2015. Kainate receptor pore-forming and auxiliary subunits regulate channel block by a novel mechanism. The Journal of Physiology (In press)
6. Accardi MV, Brown PM, Miraucourt LS, Orser BA, Bowie D. 2015. α6-Containing GABAA Receptors Are the Principal Mediators of Inhibitory Synapse Strengthening by Insulin in Cerebellar Granule Cells. The Journal of neuroscience : the official journal of the Society for Neuroscience 35:9676-9688.
5. Demmer CS, Møller C, Brown PM, Han L, Pickering DS, Nielsen B, Bowie D, Frydenvang K, Kastrup JS, Bunch L. (2015) Binding Mode of an α-Amino Acid-Linked Quinoxaline-2,3-dione Analogue at Glutamate Receptor Subtype GluK1. ACS Chem Neurosci 2015 Apr 9. [Epub ahead of print]
4. Penna, A, Wang, DS, Yu, J, Lecker, I, Brown, PM, Bowie, D, Orser, BA. 2014. Hydrogen peroxide increases GABAA receptor-mediated tonic current in hippocampal neurons. J Neurosci. 6;34(32):10624-34.
3. Accardi, MV, Daniels, BA, Brown, PM, Fritschy, JM, Tyagarajan, SK and Bowie, D. 2014. Mitochondrial reactive oxygen species regulate the strength of inhibitory GABA-mediated synaptic transmission. Nat. Commun. 5:3168. *Selected for Press Release*
2. Lachance-Touchette, P.*, Brown, P.*, Meloche, C., Kinirons, P., Lapointe, L., Lacasse, H. et al. (2011). Novel alpha1 and gamma2 GABAA receptor subunit mutations in families with idiopathic generalized epilepsy. Eur.J.Neurosci., 34, 237-249. *Selected for Editorial and Front Cover in European Journal of Neuroscience, received MedStar Award*
1. Fay, A. M., Corbeil, C. R., Brown, P., Moitessier, N., & Bowie, D. (2009). Functional characterization and in silico docking of full and partial GluK2 kainate receptor agonists. Mol Pharmacol, 75(5), 1096-1107. *Selected for Front Cover in Molecular Pharmacology*