Facilities
Laboratory Area
Our research area consists of 3 laboratories, which communicate to a connecting corridor. The main laboratory (Room 1/2) has a surface area of 20 m2 and is furnished with benches, drawers, shelves, modular cabinets, and a fume hood. Most of the animal and bench experimentation is done in this lab. A double water distiller is installed in a corner of this room. A scintillation counter is located in the west end of this area.
The second laboratory (Room 1/4) has a surface of 12 m2. It is also furnished with several benches, drawers, modular cabinets and shelves. In this laboratory we have set up several electrophoresis units for RNA and protein analysis. The room has a large refrigerator with glass doors to perform chromatography. Most of the molecular biology work is done in this area. In a corner of this lab we have installed an autoclave to sterilize instruments, reagents, and glassware, reagents, and glassware.
The third laboratory (Room 1/6) has a surface of 14 m2 and is subdivided into two compartments by a glass wall. On one side of the glass wall there is a restricted area with a tissue culture unit, and on the other side a restricted space for PCR analysis. The tissue culture unit is completely isolated by a sliding door to maintain a U.V. light sterile environment.
(Top of Page)



Office Area
We have three offices with a surface area of 12 m2 each. Room 1/1 is a computer room. This office has a fully equipped computer with statistical software, graph pads, image analyzers, slide and photograph scanners, DNA analysis software, etc. We are connected online and have direct access to the McGill University Libraries' databases and to several molecular sequence and gene mapping databases.
Room 1/3 is the office of Carlos R. Morales and Room 1/5 is the student and personnel office. This office accommodates several persons with individual desks and shelves that are separated by partial dividers to provide privacy and acceptable study areas.
(Top of Page)

Equipment
During the past 12 years we have put a major emphasis to equip our laboratory using research funds from different sources. In consequence, we do not depend on shared facilities and have full autonomy. Briefly, the main instruments are listed below:
Tissue culture unit (Class II)
CO2 incubator
Inverted microscope
Dissecting scopes
Thermo cycler (PCR)
Incubators for bacteria and yeast, orbital shakers
Ovens, vortexes, hot plates, shakers and water baths
Electronic balances and pH meters
Polytron and tissue homogenizer
Centrifuges: Beckman L7-65 ultracentrifuge, several bench tops and refrigerated centrifuges, and a Sorvall RC-5B refrigerated super speed
Beckman LS6000 scintillation counter
Double water distiller, autoclave
Refrigerators (3), -20oC Freezers (2), -90oC Freezers (2)
Speed vac
LP chromatography
Horizontal and vertical electrophoresis units and power supplies
Leica DMLS light microscope with a JVC GC-QX5HD Digital Still Camera (3.3 mega CCD pixel shift technology)
(Top of Page)

Departmental Facilities
Electron Microscope Centre: We have full access to this facility. This is a state-of-the-art centre that offers multiple services such as cryofixation, ultramicrotomy, freeze fracture, transmission (TEM) and scanning (SEM) electron microscopy, and energy dispersive X-ray analysis (EDX). The Departmental EM Centre is part of the "Montreal Network for Materials, Structural and Molecular Imaging" (MNSMI). Our EM Centre is the leading facility of the "MNSMI". The Centre supports the research activities of investigators from our Department and other laboratories and has a major impact in the areas of biological and medical sciences. The EM Centre provides computer image processing and networking combined with cutting-edge instrumentation, a modern infrastructure and multidisciplinary skilled personnel. Our EM Centre currently has a Philips 400 TEM, a JEOL JEM-2000FX TEM and a JEOL JEM-2011 TEM. The last instrument was recently acquired by our Department and is a high resolution digitized electron microscope that can attain a resolution of 0.194 nm. This instrument is connected to a JEM-FasTEM System capable of acquiring TV images and controlling the electron microscope remotely through a network. Therefore, we are able to observe the results from our office and to remotely scan fields and capture images of our interest in real time.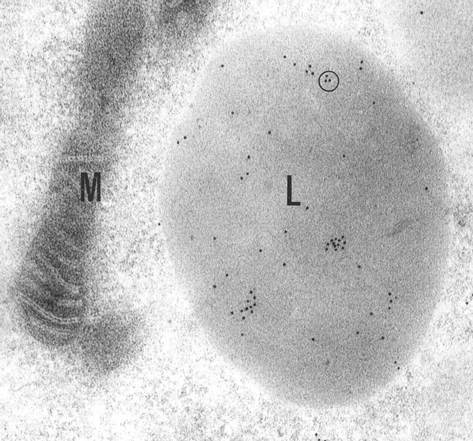 Fig. 4 Immunoelectron microscopy. This EM picture obtained in our departmental facility illustrates the localization of prosaposin in the lysosomes.
Confocal Microscope Service: In addition to the Electron Microscope Centre, we have full access to the Confocal Microscope Service of our department. The service has a Zeiss-410 and a Zeiss-510 laser confocal microscope. We use this facility extensively in conjunction with fluorescent techniques to image proteins tagged with green fluorescent protein (GFP) and various other fluorochromes. Other techniques employed in this facility include immunofluorescence, direct imaging of protein trafficking, photobleach-base methods and other biophysical techniques.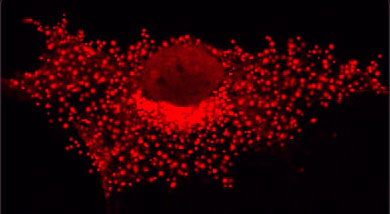 Fig. 5 Immunoconfocal microscopy. This picture obtained in our departmental facility illustrates the localization of prosaposin in the lysosomes.
(Top of Page)

University Facilities Used By Our Research Team
Pharmaco-Proteomics and Structural Genomics Centre: This facility was recently created in McGill University as an initiative of a group of colleagues interested in Genomics and Proteomics. The Centre is supported by the Canadian Foundation for Inovation (CFI), Genome-Quebec, and the private sector. C. R. Morales was a co-applicant in this venture. The Montreal Network for Pharmaco-Proteomics is connected to our building (Strathcona Anatomy, Cell Biology and Dentistry Building).

MGH Transgenesis: This McGill facility is located in the Montreal General Hospital Research Institute at a short distance from the Strathcona Building. MGH Transgenesis offers a complete service for production of transgenic mice and gene targeting. MGH Transgenesis has produced more than a 1000 transgenic and knock-out animals since 1990 and is considered a certified pathogen free facility. We have recently used this facility to introduce a prosaposin transgene under the drive of a pan-neuronal (neurofilament) promoter in mice to be used in this proposal. In our opinion, the technical service, results and prices offered by MGM Transgenesis are superior to similar facilities in Canada and North America.

Sheldon Biotechnology Centre: This is a McGill facility that provides a number of technical services to the scientific community of our university. The Centre provides technical support and resources in DNA and peptide sequencing, production of synthetic oligonucleotides, monoclonal and polyclonal antibodies, etc.
(Top of Page)