Dr. Ryan Alexander
Post-Doctoral Fellow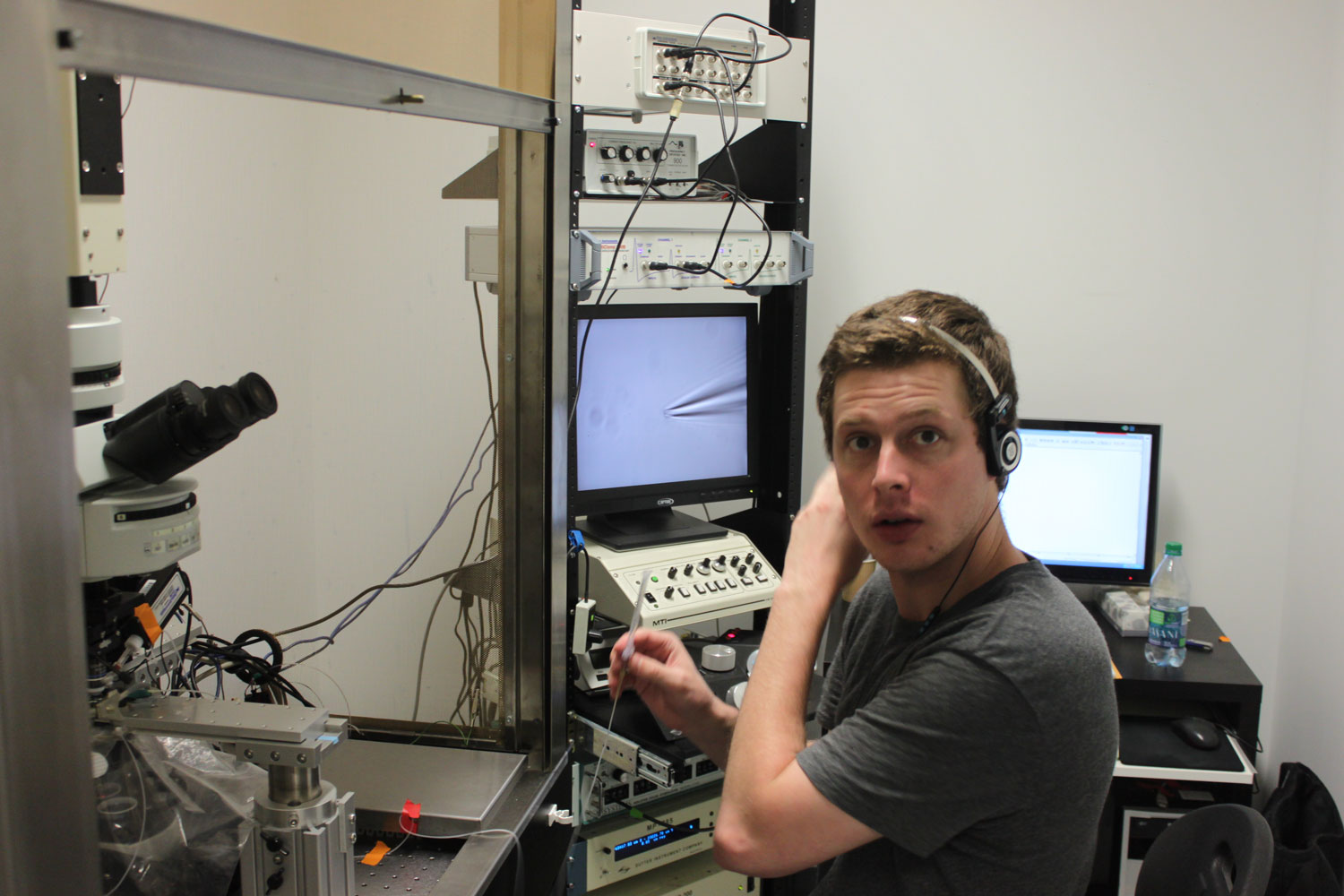 Ryan Alexander is originally from Edmonton, Alberta where he completed his BSc in Biological Sciences and Psychology at the University of Alberta. He then earned his MSc Neuroscience at the Ludwig-Maximilians-Universität in Munich, Germany working in Arthur Konnerth's lab supervised by Jana Hartmann. This work focused on the role of STIM proteins in mGluR-dependent signaling in cerebellar Purkinje neurons. He joined the Bowie Lab in January 2014 to pursue a growing interest in the inhibitory circuitry of the cerebellum, with a particular focus on firing dynamics of stellate cells and regulation of voltage-gated sodium channel properties. Ryan successfully defended his PhD in November 2019.
Scholarships and Awards
| | |
| --- | --- |
| 2018 | PRD Life Sciences Prize ($100) |
| 2017 | GREAT Award ($500) |
| 2017 | Faculty of Medicine Graduate Mobility Award ($2000) |
| 2016 | NSERC CGS-D Doctoral Fellowship ($70000) |
| 2015 | Savoy Foundation Studentship ($15000) |
| 2014 | Faculty of Medicine Internal Studentship ($12000) |
| 2014 | GEPROM Bourses de prestige ($9000) |
| 2014 | GREAT Travel Award ($500) |
| 2014 | Graduate Research Mobility Award in Medicine ($1400) |
| 2010 | Women and Children's Health Research Institute Summer Studentship ($5200) |
| 2009 | University of Alberta Undergraduate Excellence Scholarship ($750) |
| 2009 | Jason Lang Scholarship ($1000) |
Publications
Alexander RPD and Bowie D. Intrinsic plasticity of cerebellar stellate cells is mediated by NMDA receptor regulation of voltage‐gated Na+ channels. The Journal of Physiology. 2020 Nov 4. https://doi.org/10.1113/JP280627 (In Press)
Farjami S, Alexander RPD, Bowie D, Khadra A. Bursting in Cerebellar Stellate Cells Induced by Pharmacological Agents: Non-sequential Spike Adding. PLOS Computational Biology. In Press.
Farjami S, Alexander RPD, Bowie D, Khadra A. Switching in Cerebellar Stellate Cell Excitability in Response to a Pair of Inhibitory/Excitatory Presynaptic Inputs: A Dynamical System Perspective. Neural Comput. 2020 Mar;32(3):626-658.
Mitry J, Alexander RPD, Farjami S, Bowie D, Khadra A. Modeling excitability in cerebellar stellate cells: Temporal changes in threshold, latency and frequency of firing. Commun Nonlinear Sci Numer Simulat. 2019 Sept 19.
Alexander RPD, Mitry J, Sareen V, Khadra A, Bowie D. Cerebellar stellate cell excitability is coordinated by shifts in the gating behavior of voltage-gated Na+ and A-type K+ channels. eNeuro. 2019 May 20; doi: https://doi.org/10.1523/ENEURO.0126-19.2019
Dawe GB, Kadir MF, Venskutonytė R, Perozzo AM, Yan Y, Alexander RPD, Navarrete C, Santander EA, Arsenault M, Fuentes C, Aurousseau MRP, Frydenvang K, Barrera NP, Kastrup JS, Edwardson JM, Bowie D. Nanoscale Mobility of the Apo State and TARP Stoichiometry Dictate the Gating Behavior of Alternatively Spliced AMPA Receptors. Neuron. 2019 Apr 30.
Alexander RPD, Concha L, Snyder TJ, Beaulieu C, Gross DW. Correlations between limbic white matter and cognitive function in temporal lobe epilepsy, preliminary findings. Front. Aging Neurosci. 2014 June;6:142. doi: 10.3389/fnagi.2014.00142
Hartmann J, Karl RM, Alexander RPD, Adelsberger H, Brill MS, Rühlmann C, Ansel A, Sakimura K, Baba Y, Kurosaki T, Misgeld T, Konnerth A. STIM1 controls neuronal Ca2+ signaling, mGluR1-dependent synaptic transmission and cerebellar motor behavior. Neuron. 2014 May 7;82(3):635-44.
Gong G, Alexander RPD, Shi F, Beaulieu C, Gross DW. Isolated febrile seizures are not associated with structural abnormalities of the limbic system. Epilepsy Res. 2012 Dec;102(3):216-20.