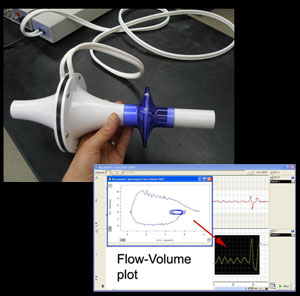 Lung volumes and capacities are anatomic measurements that vary with age, weight, height and sex of an individual. When affected by disease or trauma, the lung volumes and capacities are altered to a certain degree, depending upon the severity of the disorder. Pulmonary tests can show the effects of disease on function, but they cannot be used to give a diagnosis. However these tests do give valuable quantitative data, allowing the progress of a disease to be followed, or the response to a treatment examined.
This exercise demonstrates techniques for the measurement and evaluation of:
Lung volume and capacities

Forced vital capacity

Expiratory flow vs. volume curve changes

breathing patterns and CO2 and O2 concentrations
Prior to 2008, some of these recordings were made with a dry rolling seal type of spirometer, measuring direct volume displacements.
We are now introducing in the laboratory, pneumotachometry which uses a pneumotachometer and a differential pressure transducer that measures flow and integrates volume from flow.
The section on spirometry is therefore not currently being performed in the laboratory, but is included here for general interest.