About the researcher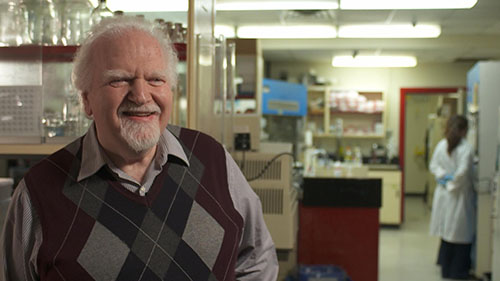 Bernard Robaire received his B.A from UCLA and his Ph.D. from McGill University. After a postdoctoral fellowship at Johns Hopkins University, he returned to McGill to take up a joint appointment in the Departments of Pharmacology & Therapeutics and of Obstetrics & Gynaecology where he has remained and is currently a James McGill Professor.
Dr. Robaire's research interests focus on male-mediated reproductive toxicology, aging of the male reproductive system, mechanisms of androgen actions, and the structure, function, and regulation of the epididymis. This research activity has resulted in over 200 journal articles, 60 book chapters, and editing/co-editing of 10 books. He conceived and has been co-Editor of both editions of the Handbook of Andrology.
He has mentored many graduate students (25 PhDs, 9 MSc) and over 20 Postdoctoral Fellows, most of whom have gone on to have successful careers in academia, industry and government. His team's work has been funded by the CIHR/MRC continuously since he opened his lab as well as by the NIH, March of Dimes, FRQNT, FRQS, and the private sector.
Honors awarded to Dr. Robaire during his career include the Award for Excellence in Reproduction from the CFAS and the Distinguished Academic Award of the CAUT. He received both of the highest recognitions from the ASA: the Distinguished Service Award and the Distinguished Andrologist Award. He was awarded the R. Howard Webster Foundation Award in Reproductive Medicine, the Prix du Mentor Scientifique (CRCQ), the Prix Guy Rochon (FQPPU), the Gabriel L. Plaa Award of Distinction by the Canadian Society of Toxicology (STC), and in 2013 he was elected as a Fellow of the Royal Society of Canada.
He has served as President of CFAS, North American Testis Workshop, ASA, ACFAS, MAUT and served as both Associate Editor and then Editor-in-Chief of Biology of Reproduction, and is currently Consulting Editor for BOR.