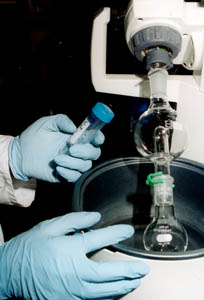 The Department of Pharmacology & Therapeutics at McGill University maintains several key resources for use by faculty and students for their research.
EM Services
The departmentís Electron Microscopy facility features a fully equipped electron microscope (Philips 410 LS) with a video camera system. The facility also includes two Reichert Ultratome ultramicrotomes and an Edwards High Vacuum carbon coater.
Contact info for EM Facility:
Johanne Ouellette
McIntyre Building
Room: 119
Phone: 398-3606
Fax: 398-7120
E-mail: johanne.ouellette@mcgill.ca
Imaging Facility
The Department also hosts the confocal microscopy/image analysis facility. This facility includes a multi-photon Zeiss 510 laser scanning microscope which is available to the scientific community on a fee basis. For more information click here.
Contact info for Confocal Facility:
Jacynthe Laliberté
McIntyre Building
Room: 1242
Phone: 398-8569
E-mail: confocal.pharma@mcgill.ca
The facility also has two automated image analysis systems (M4 MCID system and MCID Elite system), both coupled to Olympus microscopes. The MCID Elite system is coupled to an Olympus BX51 microscope with a motorized stage and focus and possesses 3-D reconstruction, stereology and tiled field mapping modules.
In addition, the department maintains a phosphorimaging system (Molecular Dynamics) and other standard equipment for common use.